Best Appetizers in Turkish Cuisine
Among many things, Turkey has a shining cuisine that establishes to fulfill every person's different food taste with its unique diversity. Flavors of the east and the west are fused within the Turkish cuisine, reflecting a heritage of the collective history of many cultures. Such richness comes with a challenge to choose what you wish to eat when you sit in a Turkish restaurant. Whether you choose between the olive oiled incredible tastes of dolma and karnıyarık or eat full of kebab and traditional börek, there is no doubt that you will leave the table with a happy stomach. Turkish cuisine is essentially the combination of Mediterranean, Balkan, Middle East, Central Asian, and Eastern European cuisines with a history of 1000 years, filled with techniques and styles of the Turkish people.
Appetizers also carry an important role in Turkish cuisine. The richness and the variety of Turkish cuisine are reflected upon its appetizers, with the name of meze. Meze withholds a prominent state in Turkish cuisine as no one could ever dream of a table that is not filled with a countless selection of meze in Turkey. These appetizers are served as a ''welcome'' to the main dish but could even be valued as a dish on their own. Whenever you dine at a Turkish restaurant, your table will be filled with countless meze selections reaching exceptional levels of taste. The selection of meze that you will receive with your food differs if you are eating a fish or meat-based meal. Usually, your meze will consist of fresh and cold products if you are having seafood, but spicy and hot appetizers will fill your table if you have gone with the meat. With the delicious meze dishes presented, you will lack the place for the main dish in your stomach. Well, let us take a closer look at some of the best appetizers in Turkish cuisine.
Haydari
Haydari is essentially strained yogurt with herbs and garlic that manages to reach different levels of freshness. This small selection of meze tends to be one of the classic choices on every table.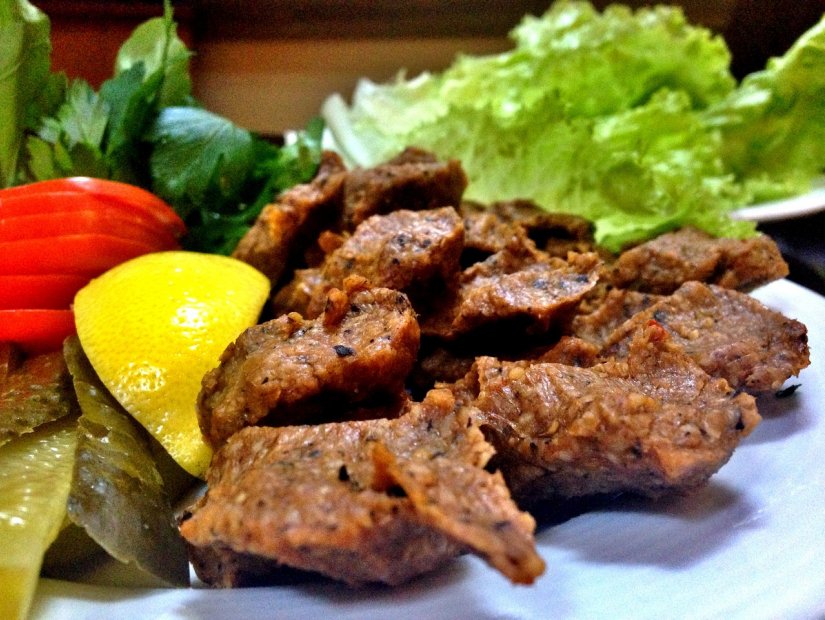 Çiğ Köfte
This vegetarian köfte is a typical appetizer in Turkish cuisine as it is one of the most significant street foods as well. Made from the delicate combination of bulgur, onion, Urfa biber (special Turkish spice), tomato paste and other, çiğ köfte is a must-to-taste.
Piyaz
Piyaz is a salad made from dry beans and onion with spices served on almost every table.
İçli Köfte
İçli Köfte is a special meze or a main dish unique to the eastern parts of Turkey. It is made out of bulgur wheat and ground meat combined with various kinds of spices. It has an egg-shaped sculpture and is served with lemon.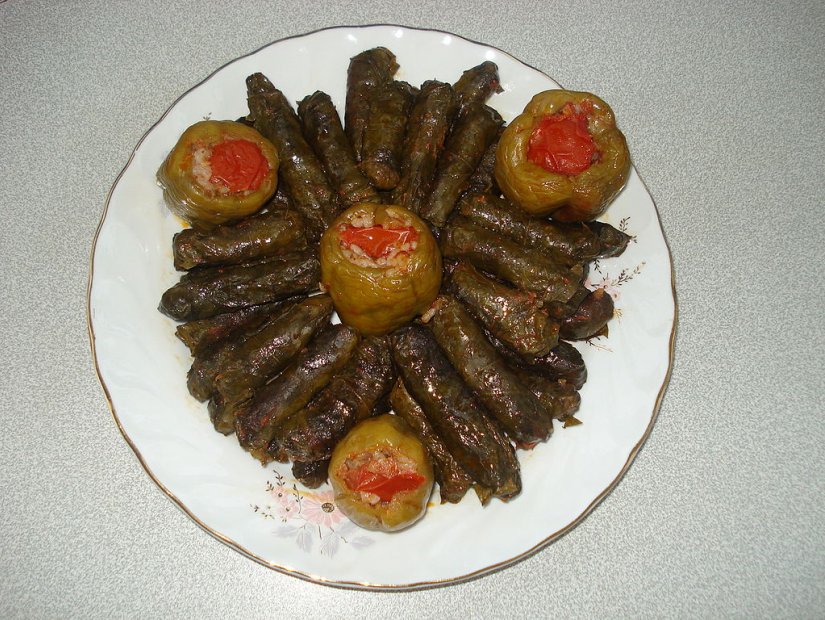 Dolma
Dolma is both an appetizer and a main dish in Turkish cuisine in which typically vegetable is used as a container to stuff special-made rice in it. As the meze kind of dolma is made with olive oil, it sometimes could be made with ground beef as well. Tomato, potato, onion, zucchini, eggplant are among many vegetables that are used in dolma-making as traditional dolma is made by bell peppers. Sarma is another type of dolma that holds an outstanding value, which is essentially rice wrapped with a vine leaf.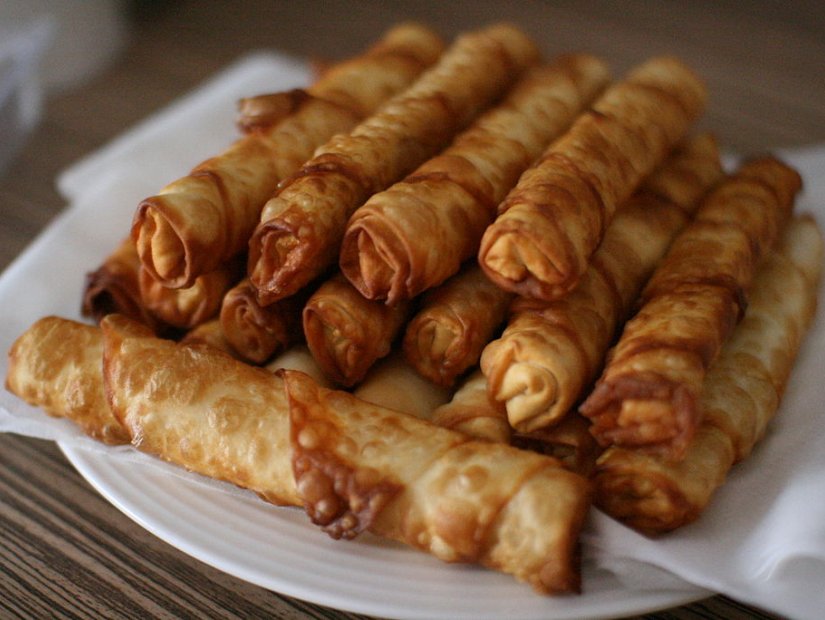 Börek
Börek is a type of pastry that has countless different versions unique in Turkish cuisine. Known with its thin flaky dough filled with either cheese, ground meat, potato, or vegetables such as spinach or leek.
Acuka
This meze is made with many different spices combined with tomato paste, ground walnuts, and garlic. With its chili and spicy taste, it's a must-to-have in Turkish tables.
Pilaki
Pilaki is a cold type of meze that is cooked in a sauce of onion, tomato, potato, garlic, sugar, and olive oil with different kinds of beans.
Cacık
Cacık is a dip or a soup more than it's an appetizer, but it is one of the most notable dishes to be found on Turkish tables. Cacık is essentially salted strained yogurt mixed with cucumbers, garlic, and olive oil.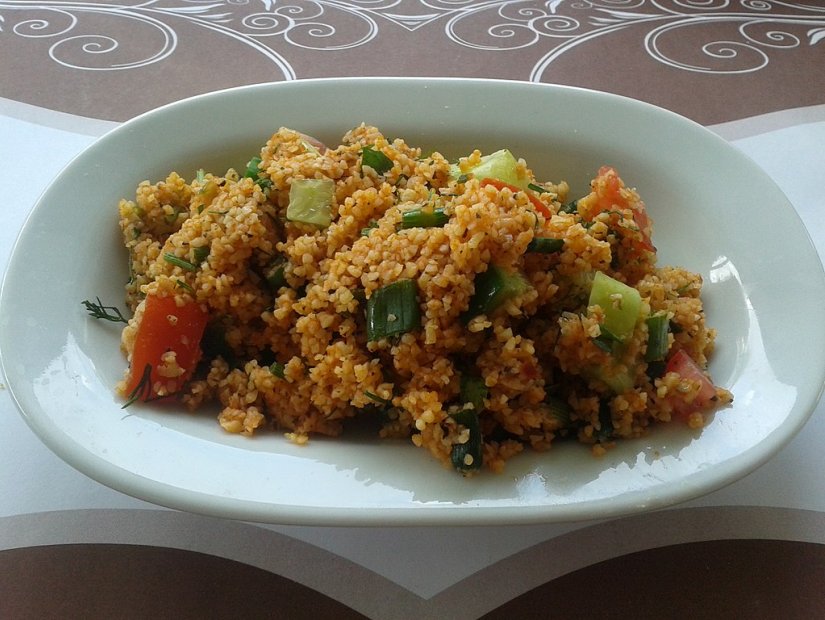 Kısır
This popular appetizer is made with a combination of ground bulgur, tomato paste, parsley, onion, garlic, sour pomegranate juice and various spices. Also commonly used as a side-supporting dish in the plate along with the main dish, Kısır is one of the most special dishes in Turkish cuisine.
There are many more refined kinds of meze that establish an amazing connection of different cultures and tastes in Turkish cuisine. These traditional tastes are some of the best aspects that provide the best of Turkish dishes.