Still widely used today, Turkish ceramics and tiles have a rich history with countless varieties. Findings of ceramics on prehistoric settlements provide the essential evidence needed to confirm humankind's settled lifestyle. By identifying their different features such as color, shape, material, technique, scientific researchers can determine the origin of many works in pottery. There are tons of examinations of ceramics that are related to Turkish culture. It could be stated that the oldest Turkish work of ceramics were the ones made by Uighur Turks in the 8th-9th century. When Turks settled in Anatolia, they combined their knowledge of ceramics and tile making with the ones they faced, creating a unique style of its own kind. Turkish ceramic and tile production shined with the great rise of the Ottoman Empire. Ottoman Sultans had a comprehensive understanding of aesthetics and were honored to keep the best works of art in their Empire. With the acknowledgment of aesthetics and designs, ceramics and tiles held the utmost importance in the Ottoman infrastructure. As the attention and like for ceramics and tiles increased, the craftmanship of such works became a well-respected and carefully taught work in the eyes of the public. Called by the name ''çini'' in Turkish, special tiles with impressive details and soothing colors garnished every piece of architecture in the Ottoman Empire. Many famous Turkish landmarks are filled with 'çini,' but Blue Mosque is a unique place to visit with its mostly blue and white decorations. The main hub for ceramic production in the Ottoman reign was the city of Iznik. This city was full of ceramic artisans that mainly worked for the Ottoman palace. Iznik became a common ground for all the skilled artisans that produced their works all around Anatolia, even creating a unique ''Iznik Style'' of ceramic and tile production. Other than Iznik, Kütahya, Çanakkale, and Istanbul had skilled craftsmanship as well. There are many more ceramic and tile crafting styles that were used and are in use as of our day.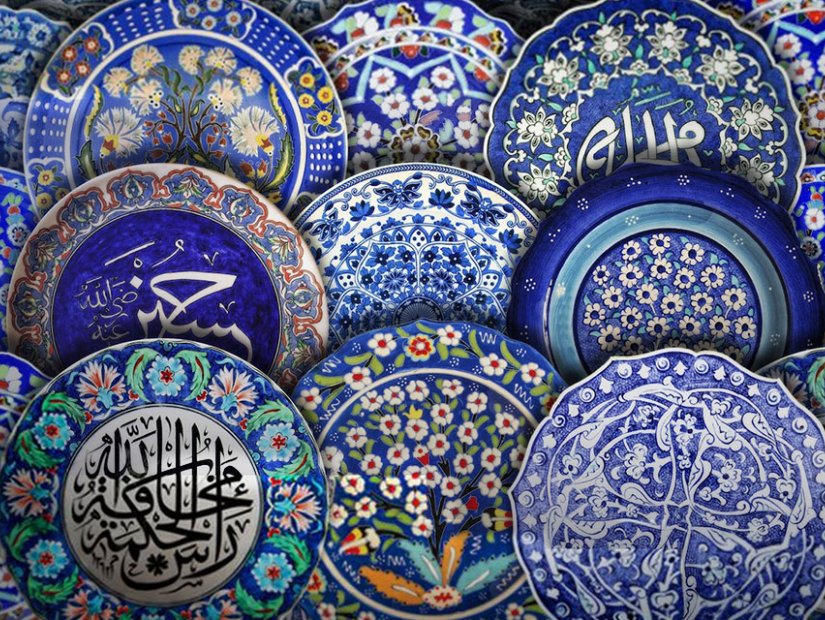 Different Styles of Ceramics and Tiles
Iznik style, one of the most famous, could be traced as early as the Ottoman Empire's foundation in the 14th century. Ceramics produced in Iznik had both transcribed traces of Seljuks, Chinese and Asian Turkish styles. First seen as an imitation of Chinese ceramics, it was classified as an adaptation of such kind. Ottoman Sultans greatly prized produced works. Especially during the reign of Süleyman the Magnificent, Topkapı Palace was heavily decorated with tiles made in Iznik. Hürrem Sultan had special attention to these tiles and increased the influence of the Iznik style inside the palace by using cups, bowls, jugs, and dishes. Also, The Blue Mosque built in this period is home to more than 20,000 special tiles along with The Rüstem Pasha Mosque. As Iznik was home to countless types of different works of ceramics and tiles, it was not realized until the 20th century that different styles such as Damascus, Golden Horn ware, Rhodian ware were all originally made in Iznik. Ceramics and tiles produced in Iznik mainly had blue and white colors with small details in emerald and ruby colors. This type of ceramics and tiles mostly had tulip, saz leaf, and rose details. Kütahya ware shows immense similarity with the ones made in Iznik. One of the most important works produced in Kütahya was the ''Abraham of Kütahya''. This ewer or water bottle traced back to 1510 signs the existence of ceramic manufacturers in this region. As there were many other examples of ceramics and tiles found in excavations that were in a similar style to the Iznik Style, Kütahya could not attract much attention of ceramic-enjoyers since it was further from Istanbul and was hard to reach. Variation of ceramic works was established near Golden Horn, giving the project its name. Decorations of Golden Horn ware were full of thin spirals and small leaves with blue and white coloring. This type of ware had its dominance in the middle of the 16th century.
Polychrome Ceramics was one of the most prominent ceramics used in Ottoman architecture. Even though information about this type of ceramic is not widely known, it is clear that famous Ottoman architect Mimar Sinan was personally involved in designing these tiles and ceramics. This type of product shined with its outstanding usage of red, in compliance with the sage-green. Süleymaniye Mosque was the first building to have this type of special tiles.
Suppose you wish to visit such mosques that are filled with these historic tiles that have fascinating designs and a soothing structure. In that case, Grand Sirkeci Hotel is near one of the oldest mosques in Istanbul: The Sultan Ahmet Mosque (The Blue Mosque). With its incredible architectural design and mesmerizing tiles, Sultan Ahmet Mosque manages to attract many tourists every year.