Museum of renowned Persian philosopher and religious icon Jalal ad-Din Muhammad Rumi has been opening its doors for visitors worldwide since 1926. This philosopher was famous for his perception of love and means of behavior and is still followed with great respect by people all around the world. Located in the center of Konya, this museum originally functioned as Rumi's Islamic monastery and was known as a dervish lodge (tekke) for the Mevlevi order founded by Rumi. This fascinating museum displays studying areas of dervishes, various books, prayer areas, şadırvan, and a blissful garden, making it a must-to-visit sight.
About Mevlana
Jalal ad-Din Muhammad Rumi was a respected Persian Islamic scholar, philosopher, poet, and theologian, along with many things. Rumi's works have managed to influence many bright minds across the world and had an everlasting effect on many cultural identities such as Persians, Turks, Tajiks, Greeks, Indian Muslims, and many other Asian Muslims. His studies and poems have been greatly acknowledged and translated into many languages. Rumi was able to create countless works and is considered to be one of the greatest poets of Persians. His most famous works are Masnavi, Matnawiye Ma'nawi, Diwan-e Kabir, Fihi Ma Fihi, Makatib. These works hold prominent value in Persian literature. Most of his work is based upon the description and explanation of the Quran, life, love, hospitality, death, and more. Rumi emphasizes to his students their importance in the universe, their responsibilities, their meanings and show them their real value. He wishes people to live in respective manners which will secure them inner peace. He believes that every human being is capable of achieving great things since the scale of success is different for every being. He is also famous for his forgiveness and proclaiming love for life. Rumi first teaches its students how to love and know their value so they can acknowledge their self-worth. "The treasures that can be found outside of you can't even compare with the treasures that can be found inside of you" says Jalal ad-Din Muhammad Rumi.
Rumi was either born in Wakhsh in present-day Tajikistan or in Balkh, which is in present-day Afghanistan. He lived and produced his works under the Seljuk Sultanate of Rum, and died in 1273 AD. After his death, Rumi's followers founded the Mevlevi Order known for the Sufi dance and Sama Ceremony. He was buried next to his father in the garden of his shrine, which was later turned into a pilgrimage point. This dervish lodge was originally gifted to Rumi by Sultan Ala al-Din Kayqubad when he invited Rumi to Konya. His shrine and resting place serve as the Rumi Museum of our day.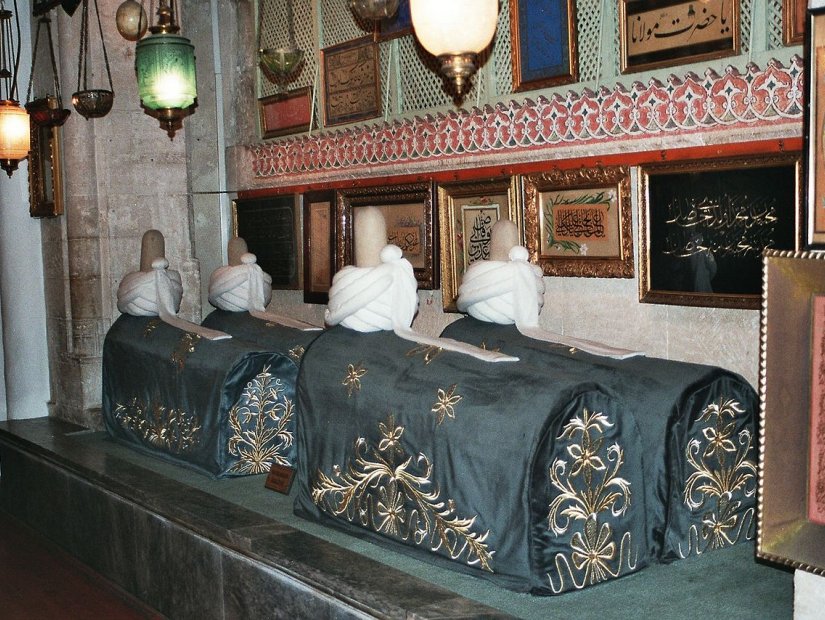 About Mevlana Museum
Mausoleum of Jalal ad-Din Muhammed Rumi was once where he made his studies and taught many bright minds. Initially, this building was presented to Rumi by the Sultan of the Anatolian Seljuk to bury Rumi's father in 1231. After Rumi's death, he was buried lying next to his father in the place where he wrote his work. Hüsamettin Çelebi, Rumi's successor, built a mausoleum over Rumi's grave. After the construction of the mausoleum, it became a pilgrimage site and was used both as a prayer and a studying location for his followers. Several sections and parts were added to the mausoleum until 1854. By the Turkish Government's decision, this site was turned into a museum on 6 April 1926 and was renovated in 1954. There are three different gates to enter this museum, and each of them holds significant importance. The main entrance, which is called "Devisan Kapısı" leads to the marble-paved courtyard. Hurrem Pasha's tomb, which was built during the reign of Suleiman the Magnificent, and the kitchen of the dervishes are located in the right of the museum. One other entrance to the museum is through the Tomb Gate (Türbe Kapısı). The last gate was built by the son of Mehmed III, which grants entry to the Vilayet room. There are six coffins of the dervishes who accompanied Rumi on the left side. The Sarcophagus of Rumi is stationed in the center of the museum, under the green dome. It is surrounded by verses from Quran. The Ottoman Sultan Abdul Hamid II gifted this display in 1894. In order to display dervishes and Rumi's performance of Sema, a ritual dance, a Ritual Hall (Semahane) was built by order of Süleyman the Magnificent. As of our day, all of these features of this mosque are used for an exhibition in the museum with a box containing the Holy Beard of Muhammed. This fascinating museum was Turkey's most visited museum in 2017, with 2.5 million visitors.