Bosphorus Cruises in Istanbul
The first thing people who come to Istanbul do is usually go on a Bosphorus tour. It is an invaluable pleasure to witness the city's beauty on the shore on a ferry that gently sails over the Bosphorus.
The impressive Bosphorus tour, starting from Galata Bridge to Anadolu Kavağı, is one of the must-do sightseeing activities for Istanbul's visitors. You can take a Bosphorus tour at the entrance of the Bosphorus for a short time at a low cost by using the Istanbul City Lines, which travels between Eminönü, Karaköy, Kadıköy, Üsküdar, Beşiktaş or the boats traveling between Üsküdar and Beşiktaş.
Bosphorus tours, which enable you to see Istanbul's historical and natural beauties from a different perspective, are carried out both by private companies and by ferries and boats affiliated to Istanbul City Lines.
Boats belonging to private companies are departing from points such as Eminönü, Kabataş, Ortaköy, Beşiktaş, Avcılar, Üsküdar and Arnavutköy, cruise along the shores of the Bosphorus for a period determined according to the scope of the tour. The hop on hop off tours of the national palaces, which Dentur Avrasya carries out in cooperation with the Directorate of National Palaces, pause at the historical and touristic spots on the coast and integrate the magnificent beauty of the Bosphorus with history.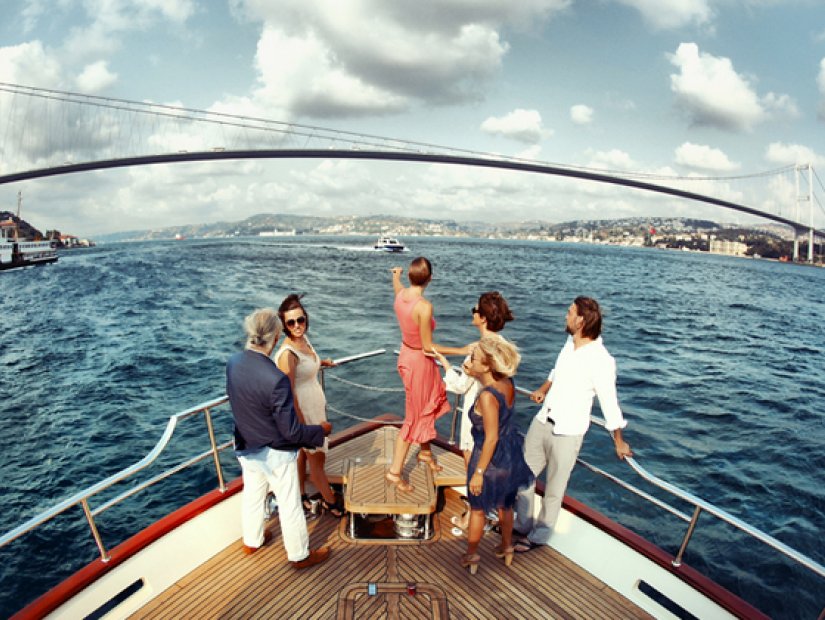 In City Lines Bosphorus tours, it is possible to enjoy the Bosphorus with three different tours, long, short, and moonlight tours. Turyol is another company that makes a Bosphorus tour in the Bosphorus. It has Bosphorus tours departing from Eminönü, Üsküdar and Karaköy. Bosphorus tour times vary according to the company and the route. The shortest Bosphorus tour starts from 1 hour and 40 minutes. There are also medium and long-term alternatives such as 2 hours and 6 hours.
During the short tour organized by City Lines 7 days a week, the ship leaves Eminönü Pier and stops at Üsküdar and Ortaköy piers. On the way back, the ship tour stops at Ortaköy and Üsküdar piers and ends at Eminönü Pier.
The ferry departing from Eminönü Pier on the long Bosphorus tour, which is carried out by City Lines 7 days a week, stops at Beşiktaş, Üsküdar, Kanlıca, Sarıyer, Rumeli Kavağı, and Anadolu Kavağı.
The National Palaces hop on hop off Bosphorus tours, 7 days a week, depart from Kabataş and Beşiktaş Dentur Eurasia Terminal. The boats departing from Kabataş in the tour, which lasts for 1 hour and 40 minutes, go to Beşiktaş, Emirgan, Küçüksu Pavilion, and Beylerbeyi Palace, and finish the tour at Kabataş.
Bosphorus tours organized by Turyol company depart from Eminönü, Üsküdar, Kadıköy, and Karaköy piers. The tours, which are made regularly 7 days a week, are carried out at frequent intervals during the day.