Best Football Stadiums in Turkey
Turkish people have their grand signature on the history of football. Football fever in Turkey is not subject to end easily, and such passion for this sport is shared with every person in the country. Many Turkish children grow in the streets playing football, creating a strong bond with their friends and football. This bond is a source of happiness, mutual discussion, excitement and a feeling to share with others. Football manages to unite Turkish people under the same roof, with a collective interest. As with such passion, success in football found its way in Turkey. Over the years, Turkey grew many talented players who now dominate football locally and globally. Turkish football clubs are famous for their fanbase as well. These fanatics wish the best for their club, doing what they could do for them. This much love and affection for their clubs result in remarkable support with high numbers. Fanatics make it easier for their clubs to go through economic and social crises, increasing the club's success. With this much support from Turkish people, many high-quality football stadiums continue to rise in Turkey. Not-so-populated cities of Turkey get their share of well-built stadiums as well. Even though they are not home to big football clubs like Istanbul, cities such as Konya, Samsun, Kayseri, Antalya, and many more have impressive football stadiums. Let us take a close look at some of the finest football stadiums in Turkey.
Atatürk Olympic Stadium
Named after the founder and first President of Turkey, Mustafa Kemal Atatürk, Atatürk Olympic Stadium is the biggest stadium in Turkey. Atatürk Olympic Stadium was built in 2002 and had a capacity of more than 80 thousand people. Even if it was initially constructed to host the 2008 Olympic Games, Turkey lost the bid for the event and the Olympics was awarded to Beijing, China. Now, Atatürk Olympic Stadium is the main stadium of the Turkish National Football team. Atatürk Olympic Stadium hosted many important matches and plans to do so in the future as well. Unforgettable 2005 UEFA Champions League Final between Liverpool F.C and A.C Milan was held in this stadium.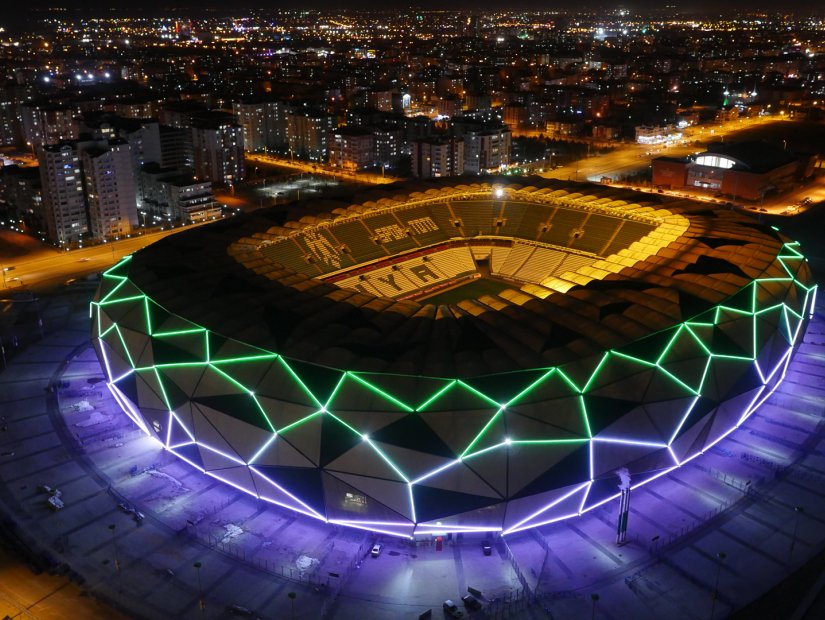 Konya Büyükşehir Stadium
The Konya Büyükşehir Stadium is a stadium that replaced the aging Konya Atatürk Stadium, which was built in the 1950s. With its incredible architectural structure and hidden cultural-messages belong to the Konya region, Konya Büyükşehir Stadium is a multi-purpose complex. Primarily used by the Konyaspor, Konya Büyükşehir Stadium is part of the Konya Olympic Village. This stadium has been in service since 2014 with a capacity of 42,000 people. Konya Büyükşehir Stadium also consists of fitness and physiotherapy centers, shops, public restaurants, and event halls.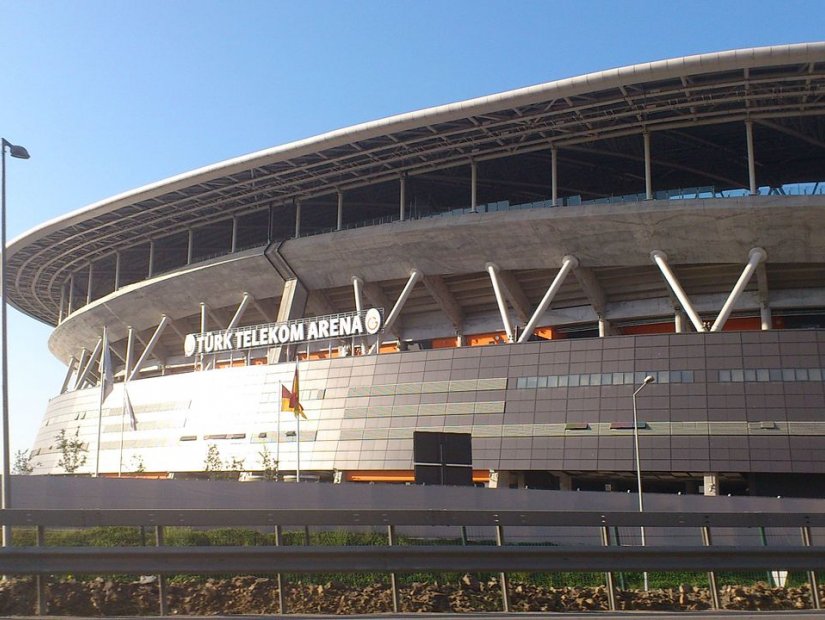 Türk Telekom Stadium
Known originally as Ali Sami Yen Sport Complex – Türk Telekom Stadium, Türk Telekom Stadium is the home ground of Super Lig club Galatasaray S.K. Located in the Sarıyer district of Istanbul, Türk Telekom Stadium has a capacity of 52,650 people and opened in 2011. Türk Telekom Stadium was built to replace the old, not-efficient Ali Sami Yen Stadium. Türk Telekom Stadium was the first Turkish Stadium to fulfill the UEFA Euro 2016 requirements. This great stadium was the first stadium to have a retractable roof in Turkey. Türk Telekom Stadium also hosts various events and concerts. Famous names such as Bon Jovi and Madonna had given concerts in this stadium.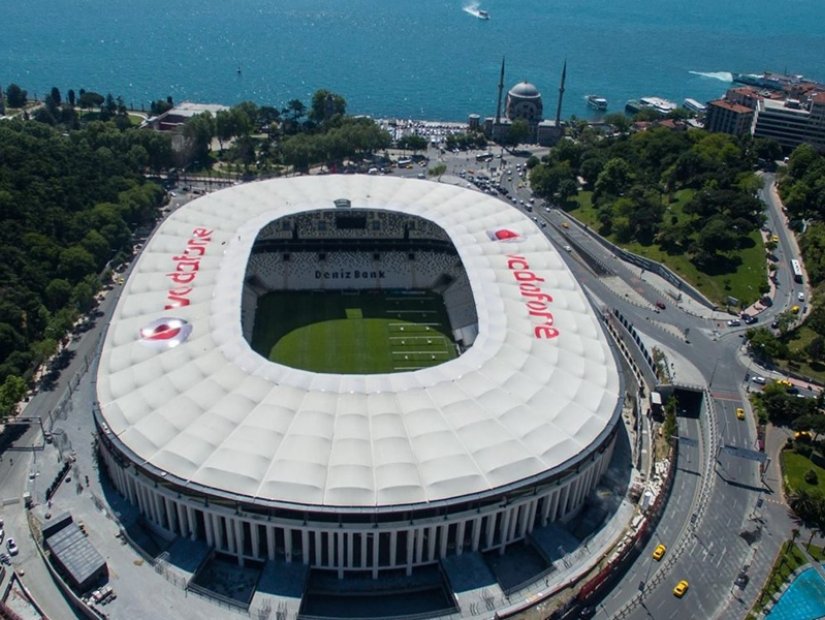 Vodafone Park
Vodafone Park is a multi-purpose, all-seater stadium in the Beşiktaş district of Istanbul. Being the home ground of the football club Beşiktaş JK, Vodafone Park was built in 2016, replacing the old BJK İnönü Stadium, which was built in 1947. Vodafone Park has a capacity of more than 42,000 people. This stadium was constructed by using the latest technological advancements. Vodafone Park offers high-speed internet, Stadium Vision, shops, concert areas, high parking capacity, and many more for its visitors. Its incredible colosseum-like architecture creates fantastic scenery and it was aimed to keep the building in harmony with the natural and historical landscape of the Bosporus. Vodafone Park had the honor of hosting many famous events, including the 2019 UEFA Super Cup.
Fenerbahçe Şükrü Saracoğlu Stadium
Also known as Ülker Stadium, Fenerbahçe Şükrü Saracoğlu Stadium is the oldest and one of the biggest stadiums in Turkey. Located in the Kadıköy district of Istanbul, this stadium is owned by the Fenerbahçe Sports Club since 1933. Fenerbahçe Şükrü Saraçoğlu stadium is named after Turkey's 5th Prime Minister and Fenerbahçe's chairman Şükrü Saraçoğlu. Thanks to the initial support of Şükrü Saraçoğlu, Fenerbahçe gained a tremendous amount of success over the years. This stadium's latest restoration was issued in 2006 with an entire interior renewal and a construction project. Fenerbahçe Şükrü Saraçoğlu Stadium had the honor to host the 2009 UEFA Cup Final.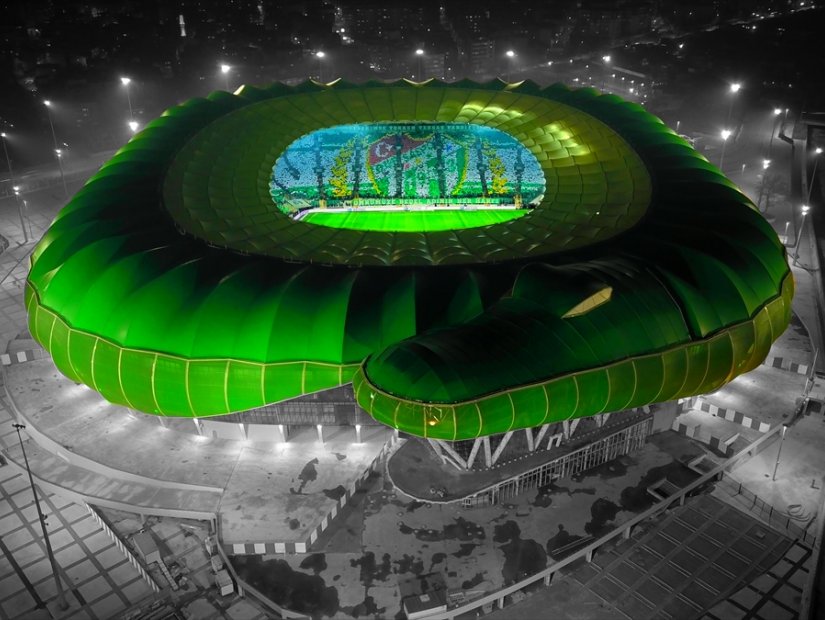 Bursa Büyükşehir Belediye Stadium
Bursa Büyükşehir Belediye Stadium -also known as Crocodile Arena- is the home ground of Bursaspor. This stadium is shaped like a crocodile, as Bursaspor's mascot is a crocodile. This massive stadium was constructed between 2011 and 2015 with a capacity of 43,331 spectators. Planned according to the UEFA's 2016 codes, it attracts great attention with its unique architecture. This crocodile shaped stadium has been listed as one of the world's top 10 most stunning stadiums by The Telegraph.