Tombs of Osman and Orhan
The Ottoman Empire ruled for hundreds of years and had a great influence on the world. Osman Gazi, the founder of the empire, was born in the Söğüt district of Bilecik in 1258. When he married Malhun Hatun, daughter of Sheikh Edebali in 1258, Orhan Gazi, who would later become the head of the Ottoman Empire, was born.
During the siege of Bursa, Osmangazi was buried in the tomb built on the chapel of Sainte Elie Byzantine Monastery after the conquest of Bursa upon his will. The tomb, which was destroyed by fire in 1801 and the earthquake of 1855, was turned into its present form in 1863.
Osman Gazi lies inside the sarcophagus made of magnificent wood with mother-of-pearl inlaid in the middle of the tomb, covered with a dome and formed with an octagonal plan structure. It was embroidered with silver on velvet, and the cover showing the date of his birth, the year of his reign, and the death of Osmangazi was covered over the sarcophagus. Inside the tomb are the sarcophagi of Osmangazi's son Alaaddin Bey, Orhan Gazi's wife Aspurça Hatun, and twelve relatives. Today, Osman Gazi Tomb is in the Osmangazi district of Bursa.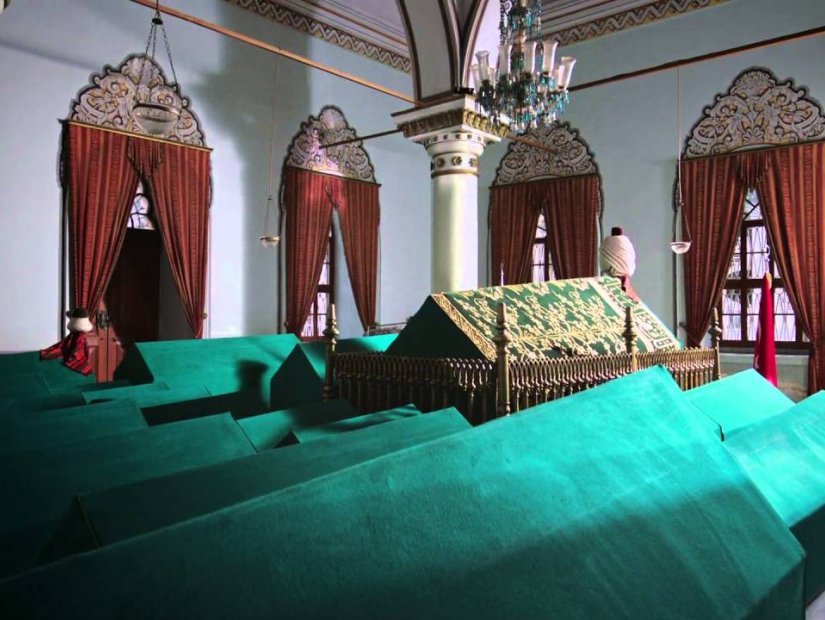 Orhan Gazi and Osman Gazi Tomb were in the same place before. However, the tomb, which was destroyed due to the earthquake in 1855, was rebuilt. Today, Orhan Gazi's tomb is located right across from the Osman Gazi Tomb.
Orhan, the son of Osmangazi and the second sultan of the Ottoman Empire, lived between 1281-1362. During his lifetime, he took Bursa and its surroundings from the Byzantines and formed state organizations. He also printed the first Ottoman money.
Orhan's Tomb was built on a part of Sainte Elie Monastery, which was used as the metropolitan monastery of the city before the conquest of Bursa. The mausoleum was built on the floor mosaics of the Sainte Elie Monastery. There are three windows on each facade of the tomb, built in a square plan. The interior walls are whitewashed, and there are simple ornaments in the form of a pediment on the windows. The sarcophagus under the dome in the middle belongs to Orhan Gazi. The sarcophagus is surrounded by a brass rail. There is a veil on top of the sarcophagus on which the Prophet Muhammad's hadith is written, embroidered with silver glitter on a velvet fabric. Inside the tomb are the sarcophagi of Orhangazi's wife Nilüfer Hatun, her children, and their relatives.
These two tombs are among the must-see places in Bursa.