Zeugma Mosaic Museum, which attracts great attention of art lovers, contains traces of many ancient cities and civilizations. This place, located in Gaziantep, is among the most important museums in the country. There are mosaic samples belonging to the late antique period, Syriac, and Christian iconography. Zeugma Mosaic Museum is the second largest mosaic museum in the world. The museum was opened to visitors on September 9, 2011. There are 2748 square meters of mosaic, 140 square meters of murals, columns, 4 Roman fountains, 4 limestone statues, bronze Mars statues, tomb steles, sarcophagi, and many historical artifacts. The museum complex consists of 3 blocks on an area of ​​30,000 square meters. Zeugma Mosaic Museum, besides being a mosaic and archeology museum, also hosts exhibitions and conferences.
Zeugma Ancient City has a history of 2000 years. The artifacts unearthed in Zeugma Ancient City, one of the most important archaeological discoveries in history, are exhibited in the museum area, which is 2,500 square meters in total. The fact that all the walls and even the floors of the Poseidon and Euphrates villas, where the most magnificent mosaics were discovered and awaiting their visitors in a revived form on the entrance floor of the museum, are the evidence of the wealth of the city. In this museum, there are also columns, fountains, and a bronze statue of Ares, the God of War.
There are huge mosaics at the entrance of the museum. Every part of the museum is furnished with mosaics. You can examine all the mosaics from the entrance to the exit under dim lights. All the mosaics exhibited in the museum have visual and audio descriptions. You can take a headset at the museum entrance and listen to the descriptions of the works.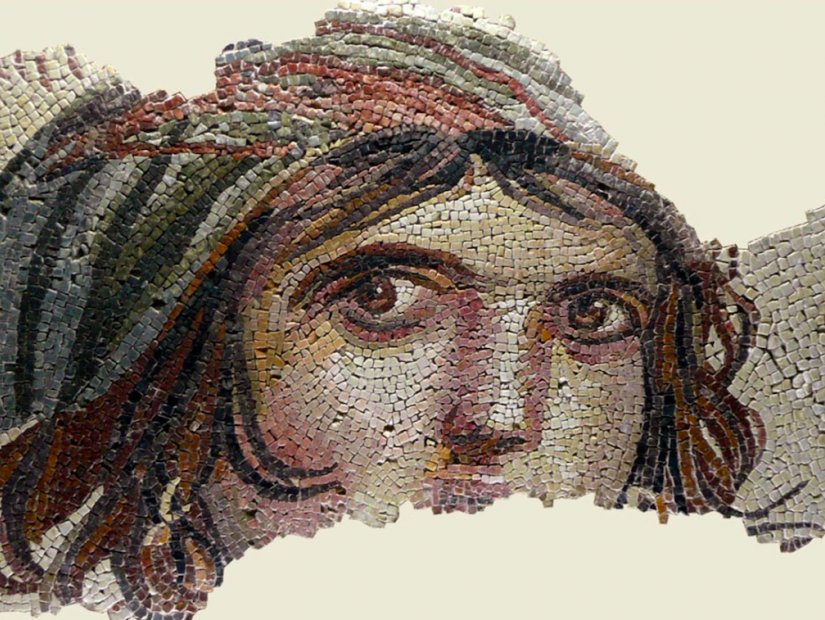 The most important work of the museum is the Maenad, the Gypsy Girl, made in the 2nd century AD. The mosaic was made as a floor covering in the Villa of Maenad. The sad expression in the eyes of the figure, which constitutes the only remaining part of the floor mosaic of the dining room in the Villa of Maenad, made this mosaic the most admired finding of the museum. The Gypsy Girl was unearthed during the 1998 excavations in the ancient city of Zeugma, located on the banks of the Euphrates River in Nizip. But there were many missing parts because it was made on an area of ​​approximately 300 square meters. For some, it was inspired by Alexander the Great, and for others, Gaia, the Earth God. Gypsy Girl, Mona Lisa of Zeugma, has become the symbol of the ancient city and museum.