Old Silk Market in Bursa
The centuries-old shopping center of Bursa, Old Silk Market (Koza Han), was built in 1492 with Bayezıt II's order to generate income for the mosques and madrasahs in Istanbul. It was built by the architect Abdul-ula Pulat Shah. The first stop for tourists in Bursa, Koza Han, is a world-renowned masterpiece. Koza Han is the most prominent and world-renowned architectural structure of the Ottoman Empire in the city. Located between Grand Mosque and Orhan Gazi Mosque, it is the most beautiful and most visited market of Bursa. Even Queen Elizabeth visited this historic shopping center.
It consists of 95 rooms on two floors around a rectangular courtyard. On the upper floor of Koza Han, there are cafes and shops selling silk products. Stone stairs on both sides of the entrance lead to the upper floor. On the left side of the inn is the barn section, which does not have a regular plan, and there are fifty-one rooms on the upper floor. The upper floor porches were wooden, but in the last repair, they were turned into masonry. The portico arches are brick and domed. The portico consists of 40 concrete domes. The rooms are covered with vaults, and each of them has two windows opening to the outside. All of the rooms on the upper floor are used as shops selling silk and silk products. There are doors opening to the Orhan Mosque side and the covered bazaar in the north. The large stone door opening to the north is decorated with turquoise tiles. There is a separate mosque in the middle of the courtyard, as in some Seljuk caravanserais.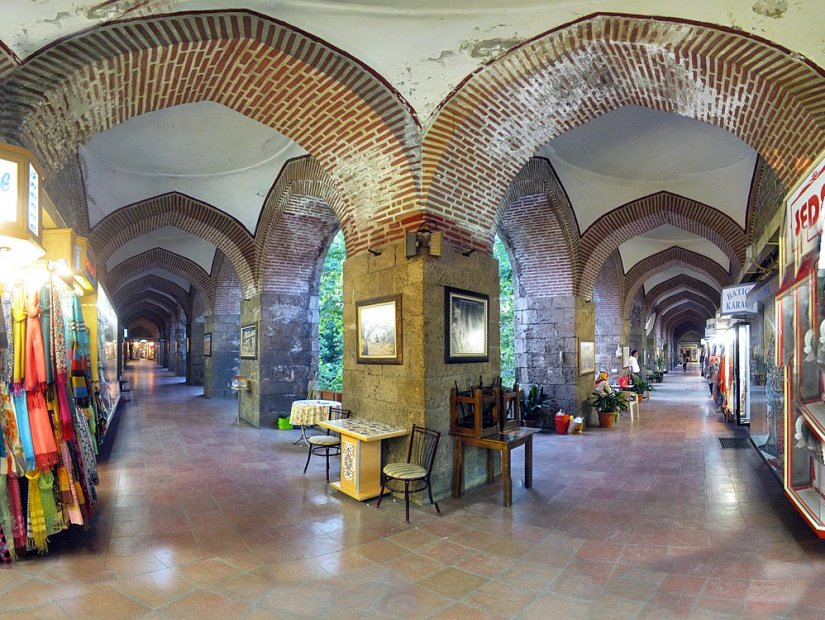 The Crown Gate in the north of Koza Han, which has four separate entrances, is a masterpiece with a braid motif. The stone workmanship of the door, which is also reminiscent of Seljuk architecture, is magnificent. One of its prominent points is the mosque and fountain pool built on an octagonal ground in the middle of the courtyard.
The old Silk Market was vital to the Ottoman Empire because it was the last stop of the Silk Road Trade Line in Asia. In Koza Han, which has been an international trade and shopping center throughout history, there were businesses of merchants from different countries.
In the courtyard of Koza Han, which is the heart of the silk and cocooning in Bursa, traders exhibited their products, and villagers had the opportunity to sell the cocoons they brought. Today, it maintains its commercial vitality thanks to the shops selling all kinds of silk products on the upper floor. A variety of high-quality silk fabrics, silk scarves, silk shawls, apparel products, accessories as well as artistic products, dowry, and home textile products, underwear, silver, and valuable souvenirs are sold in the stores.