Izmir Clock Tower at the Konak Square
Izmir Clock Tower, located in Konak Square, has become the symbol of İzmir today. Local and foreign tourists want to see the clock tower first when they come to Izmir. Since the square where the clock tower is located has a historical significance and is the most frequented place in Izmir, its importance and value increase. Izmir Clock Tower is also important because it is the first modern symbol of Izmir.
It was built in 1901 by order of a commission consisting of İzmir Governor Cypriot Kamil Pasha, his son Said Pasha, and Mayor Eşref Pasha to celebrate the 25th anniversary of the coming to the throne of the Ottoman Sultan Abdulhamid II. The clock tower, which is 25 meters high and has 4 floors, is placed on an octagonal platform. There are Ottoman Coat of Arms on the east and west sides of the tower and Sultan Abdulhamid II's signature on the North and South sides.
The column capitals, horseshoe arches, and fronts of the building, without any gaps, point to the orientalist style, which shows that it has an architectural understanding that can be found in buildings of North Africa and Andalusia.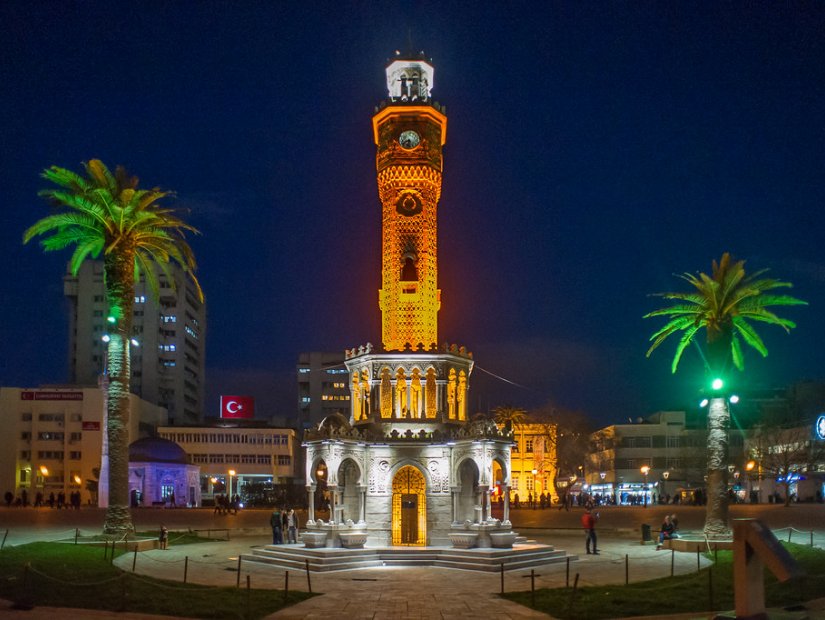 There is a columnar gallery on the octagonal base of the Clock Tower and a square prism-shaped body with beveled corners on it. This body has gained a three-segmented appearance with the connection of small domed pedestal columns with elegant caps. The green and pink colored columns used in the galleries and fountains here were brought from Marseille. The capitals and corners of these columns are decorated with floral ornaments.
The clock of the tower was given as a gift by the German Emperor Wilhelm II. The architect was Raymond Charles Pere. The green and red mosaics used in the construction of the Clock Tower were brought from Ephesus, and the stones constituting the main body were brought from Sarayköy.
The octagonal pool, which Pere built on the same date as the clock tower and designed with 25 taps because it symbolizes the 25th anniversary of the Sultan, has unfortunately not survived.
Severe earthquakes damaged the Clock Tower in 1928 and 1974. In the earthquake of 5,2 magnitudes in 1974, the clock of the tower stopped at 02.04 at the time of the earthquake. Within two years, the tower was repaired again, and its clock has been working until today.
You can go to the Clock Tower by bus, ferry, metro, and tram.